Building Vintage Creative Strategies for 35+ Years
Like a classic movie, GROUP 2 stands the test of time – developing creative strategies, brand identities, print collateral, websites, videos, etc. for 35+ years.
Our work, spanning across multiple industries from B2C, B2B and non-profits, continues to provide results that leave our clients sitting on the edge of their seats!
In today's dynamic digital world, strong creative and messaging is critical. Your brand has to stand out in print, digital, video, and signage amid a noisy, crowded business landscape.
GROUP 2 partners with you to create the voice and style that resonates with your audience. With a team of passionate pros in marketing, design, and branding, we go full tilt to take your business to the next level – with an approach that keeps connectivity at the forefront.
Let us turn your next marketing campaign into a star!
A well-planned and sound strategy sets the stage for a campaign that will maximize your return on investment. GROUP 2 delivers cohesive marketing, graphic design and branding solutions that directly align to our clients' business objectives, and can be seamlessly leveraged across the full range of digital and traditional media. We take the time to understand business needs first, and design to meet those needs.
When you work with GROUP 2, you will be working with a senior-level team whom you can trust. No bait and switch. We partner with the best in the industry who share the same philosophical and ethical business practices. Our scalable, process-driven approach allows us to integrate the collective expertise of our team with our clients' business objectives while providing the transparency they seek.
GROUP 2 is driven to deliver for its clients and we believe that is reflected in our client relationships, many of which have spanned years, even decades. Our creative recommendations include our full design team, giving clients a diverse selection to choose from. So why do businesses and organizations continue to place their trust in us? Creativity. Cohesiveness. Chemistry.
Our focus on client responsiveness, coupled with our suite of project management tools, help us address every detail in an efficient and timely way, ensuring we deliver on our client commitments. GROUP 2 uses Basecamp – a cloud-based, universal project management system – to streamline and effectively manage the development and implementation processes of each project.
Chemistry is key when entrusting an agency to introduce your brand personality to the marketplace. We believe clients are looking for more than a marketing and design resource; they are looking for partners who are committed to helping them meet their objectives. GROUP 2 is dedicated to building relationships that make working together feel like the solution, not part of the problem.
Learn more about the GROUP 2 team and see what makes us tick at both work and play. As individuals, we bring a diverse set of skills, interests, and talents to the table. As a team, we come together to drive powerful growth and visibility for our valued clients.
"I've worked with GROUP 2 for nine years with great success during my brand leadership roles as Director of Marketing & Communications in Higher Education and as Director of Brand & Community Engagement in Healthcare. Their design expertise is accompanied by a wealth of experience, strategic thought, and superb project management—they bring the magic to agency relationships that I don't find with many other firms."
– Director of Brand & Community Engagement in Healthcare
"As a 32+ year client of GROUP 2, we continually seek stellar creative solutions that are a direct reflection of our program goals and as equally important, on schedule and within budget. GROUP 2 is perfectly aligned with our corporate objectives and expectations. Their well-rounded design team provides a product that competes well in the marketplace."
– Director of Corporate Communications, Equitrans Midstream
"GROUP 2 consistently delivers every quality you expect from an agency relationship; creativity, flexibility and client partnership. We've worked through four different brands over the past eight years. They are my go-to agency for both quick turnaround projects, as well as more deep dive initiatives. A great partner all around!"
– Senior Manager, Corporate Marketing, Omnicell
"I have worked with GROUP 2 on a company re-brand including collateral, website design, signage, and advertising. The team is very responsive to our on-demand requests and take the time to understand the project scope, ensuring we receive the best possible outcomes, all while keeping our budget in mind."
– Marketing Director, Burns White
"The team at GROUP 2 helps to boil down complex strategies and business objectives into information that's relevant and meaningful to diverse audiences. They're creative, great project managers, with an appreciation for budget and timelines, and like to have FUN in the process."
– Director, Internal Communications, McKesson Corporation
"Brian's team was the last to enter the bidding process for our new marketing initiative, but we realized immediately this was the team we wanted. From the beginning, Brian impressed us – starting with our new brand system development, and on through stationery, award-winning print materials, on-target advertising, dynamic video and our state-of-the-art website – with a little of everything in between. Each project has integrated seamlessly to give us a strong and growing presence in the marketplace. We could not recommend Brian's creative leadership more highly for ongoing marketing excellence."
– Senior Project Manager, Carl Walker Construction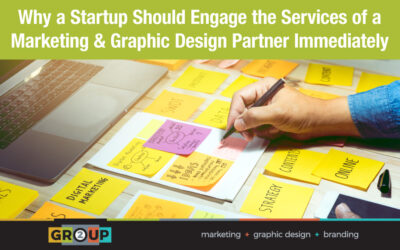 When to bring in outside partners is a question that every startup must eventually deal with- and Marketing/Graphic Design is no different. To some, it may seem like a waste of money to hire a marketing and graphic design partner at the outset of a startup. After all,...
read more
GROUP 2 – founded in 1988 – is a Pittsburgh marketing and communications firm, offering creative services to a diverse client base. The company was established on the foundation of providing a premium quality offering at a fair price and in a timely manner, which still aligns with the company goals today.
We are creative marketing and branding professionals – experienced and road-tested. We are committed to doing what it takes to meet your objectives. And we are ready to serve as your partner in developing a campaign that delivers. Our core services are listed below. Really, there are no limits to the service we can provide. As a longstanding creative boutique agency, we have access to the skills and expertise of an eclectic pool of outstanding talent.
Creative Strategy
No cookie cutters here. This is about your brand, your needs, your market, and your resources. Exploring and understanding these elements of your business are at the core of our service to you. With that understanding, we develop a custom creative strategy that ensures the visual harmony, consistency, and effectiveness of all components of your campaign.
Marketing and Communications Planning & Development
An effective, long-term marketing strategy relies on a comprehensive planning process. Our GROUP 2 creative team, strategy advisers and writers collaborate with you in a series of discovery and idea-sharing sessions. From there, a premium plan will be developed, which will engage mediums that generate maximum ROI while working within your budget and time frame.
Messaging, Value Proposition & Key Content Platforms
So, what's the story of your brand or product? How should you tell it? Where and to whom will you tell it? Not to worry. Our team handles everything from data compilation to creative processing in order to craft messaging that effectively expresses your brand identity and value propositions. The takeaway is a complete menu of messaging and communication tools that live long and harmoniously with all elements of your campaign while making it simple to tell your story from any platform.
Management of All Partnered Resources
At GROUP 2, we vet, coordinate, and manage all participants in all facets of a campaign. We assume accountability in ensuring that each partner and vendor provides the absolute best and most appropriate product or service to meet your needs. Our network of professionals brings to your campaign well over 100 years of combined experience and success. Once contracted, we will provide you with an entire network profile.